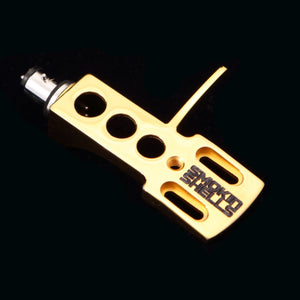 SS-01g Gold Plated Headshell (Limited Edition)
The "g" stands for gold!  The Limited Edition SS-01g is our 24 carat laser gold plated head shell that fits any standard turntable.  The gold plating process is done with the same gold used in satellite components for NASA, as well the Oscars. It is a thing of beauty.
The head shell weighs 9.7 grams with the four (4) connector leads attached.  Each SS-01g comes with one branded microfiber cleaning cloth. It is packaged in an anti-static gold zip lock bag for protection.

Please select laser engraving and upload your logo to add your personal branding to your shell.
**Price reflected is per headshell**

Specs:
High mirror polished head shell
Weighs 9.7 grams
Top screw hole for 2g or 4g weight
Includes Branded microfiber cleaning cloth
Comes standard w/ stainless steel wire leads (or upgrade to gold plated ones)