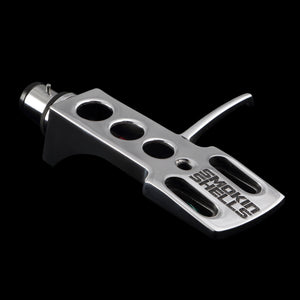 SS-01 Turntable Headshell
The SS-01 is a high mirror polished turntable head shell, developed by Dj Rasta Root for Smokin' Shells. It fits any standard needle cartridge as well as fits on all standard dj turntables. The head shell weighs 9.6 grams with the four (4) connector leads attached. Each SS-01 comes with one (1) microfiber cleaning cloth. Each Shell is packaged in an anti-static silver zip lock bag.
Please select laser engraving and upload your logo to add your personal branding to your shell.

**Price reflected is per headshell**
Specs:
High mirror polished head shell
Weighs 9.6 grams
Top screw hole for 2g or 4g weight
Includes microfiber cleaning cloth
Stainless steel contacts (or upgrade to gold plated ones)